Company
KEMICALS WORLDWIDE (T&T) LIMITED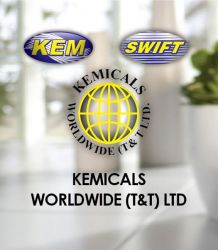 LP#79 ENDEAVOUR ROAD CHAGUANAS
672-7266
Job Details
Apply
Custodian
Port of Spain
Chemicals and non metallic industries
Application deadline
Professional Qualifications Required
Qualifications: 1. High degree of professionalism. 2. Reliable and able to work some weekends 3. Strong verbal and written communication skills 4. Ability to lift objects up to 50 pounds
Technical / Vocational Skills Required
Job Description
Custodian Job Purpose: Cleans and maintains company facilities, including washrooms, meeting rooms, offices, carpet and flooring, furniture, walls, toilets, etc, to provide safe and healthy workplace.
Job Details / Responsibilities
Tasks
Clean building floors by sweeping, mopping, scrubbing, or vacuuming them.
Gather and empty trash.
Service, clean, and supply restrooms.
Clean and polish furniture and fixtures.
Clean windows, glass partitions, and mirrors, using soapy water or other cleaners, sponges, and squeegees.
Dust furniture, walls, machines, and equipment.
Mix water and detergents or acids in containers to prepare cleaning solutions, according to specifications.
Follow procedures for the use of chemical cleaners and power equipment, in order to prevent damage to floors and fixtures.
Monitor building security and safety by performing such tasks as locking doors after operating hours and checking electrical appliance use to ensure that hazards are not created.
Notify managers concerning the need for major repairs or additions to building operating systems.
Requisition supplies and equipment needed for cleaning and maintenance duties.
Undertake occasional custodial and janitorial tasks.
· Responsibilities:
Use cleaning supplies and equipment to keep the interior of the office building looking clean and professional.
Respond to requests quickly and with a professional manner.
Adhere to the company's safety policies to create a safe work environment for everyone
Perform routing cleaning tasks based on a schedule created by the facility management team.